Zebra Blinds both increases the level of light and provides ease of use. Zebra Blinds, which receive the light thanks to the tulle sections without the need to be pulled up continuously, also meet the tulle curtain function. This type of curtain is produced as a double layer. One of the layers is tulle and the other is fabric.
Zebra Blinds allow you to use them as tulle during the day and allow daylight to enter the room, as well as using them as a sunshade at night, preventing you from being seen from the outside and creating a dark environment. The zebra curtain, which is very preferred due to the convenience and usefulness it provides, offers many choices with its color, pattern and model. Thanks to its modern, classic and sports models, it ensures that a very stylish and modern atmosphere is created in the places by ensuring that the appropriate selection is made. Thus, you can make your spaces look more beautiful by choosing the color and pattern suitable for the area you will use. Recently, patterned models are seen among the very popular models. In addition, this type of blinds is more pleasing to the eye by providing a tidy appearance on the windows with its space-saving feature. Since it is a curtain with a mechanism, it can be opened and closed easily. It is also very easy to use.
Our Zebra Blinds are using the highest quality polyester and metallics. Our blinds are fully customized to the dimensions of your windows, which means that we will measure your windows, and then manufacture the blinds with the sizes we received. You will be able to choose the colour, the fabric, and the type of the blind once you are placing your order. Do you want to follow us on Instagram?
UV Protection
Uv Protection.. Our Zebra Blinds will protect your floors and furnishings from the damage caused by prolonged sun exposure. Blocking up to 99.9% of UV rays when closed.
We are sure that you will be very satisfied with the use of Zebra Blinds.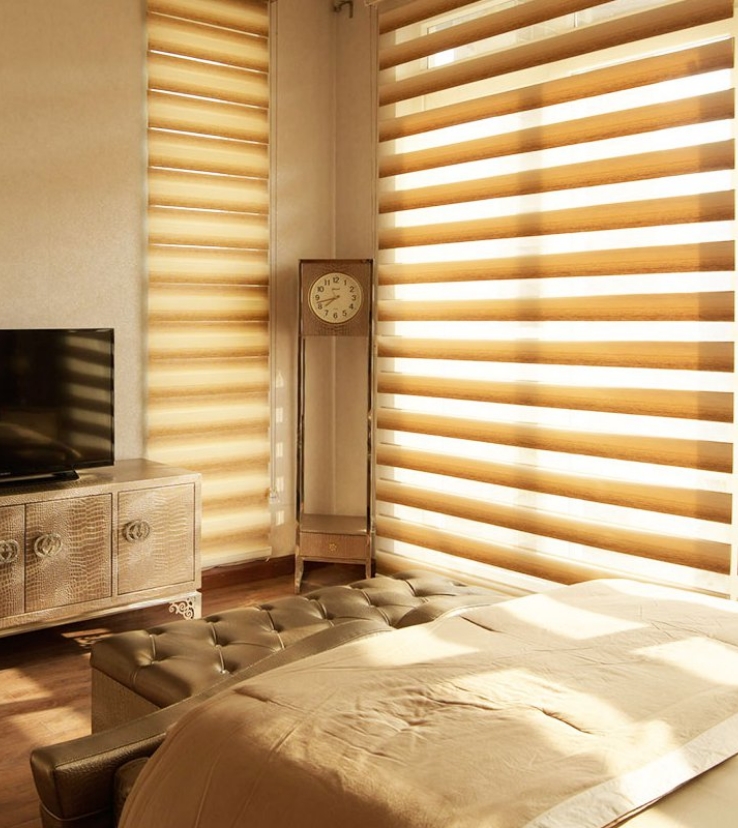 Frequently asked any question
The zebra curtain should be inserted into the terminals in the same way as it was removed from the terminals. Both sides of the curtain must be kept balanced in order to install the curtain.
All you need is a ladder and a flat screwdriver. There is a bracket that holds the roller blind on the ceiling. If you push the end of the bracket outwards with the screwdriver, the roller blind will come free.
It can be somewhat useful for a new roller blind. If there is a stain, it can remove the stain. But it won't work on roller blinds that have been used for a while. The dirt from the roller blind will spread like mud.
Call us, WhatsApp us or fill out the product order form. We will get back to you as soon as possible!
Have A Question?